REPRESENTING TWENTY YEARS OF TECH TREK – SCHOLARSHIP RECIPIENTS OF 2018
During  the first three months of 2018, the Tech Trek committee has been quietly working in the background, doing what they have done for the last twenty years.  The teacher nominations, student applications, and parent certifications flowed back and forth from schools, homes and committee members.  Meetings were held to discuss and debate the merits of each of the twenty-two student nominees, and the process began once again to whittle down so many deserving young women into only seven scholarship recipients, the number allowed to our branch this year by the UC Davis Tech Trek Camp Directors.
After an intense day of student interviews, held on Saturday, March 17th at the Woman's Club of Lincoln, the Tech Trek committee members are pleased to announce the 20th anniversary Tech Trek Scholarship recipients for the AAUW Roseville-South Placer branch.  From Creekview Ranch Middle School comes two recipients this year – twins!  Sydney Schell and her twin sister Taylor Schell will attend Tech Trek Camp from July 22nd through July 28th.  Accompanying them will be Nia Sanders from Silverado Middle School; Ella Zumot from Cavitt Middle School; Sydney Hurter from Olympus Middle School; Brooke Roeker from Glen Edwards Middle School; and finally, Alyssa Rizzardo from Twelve Bridges Middle School.  Eliot Cummings from Western Sierra Collegiate Academy and Sophie Ohanyan from Spring View Middle School are alternates.  Congratulations to our 20th anniversary Tech Trek Scholarship Recipients!
A heartfelt thank you to the 20th anniversary Tech Trek committee members who worked so diligently to bring the scholarship search to its fruition, and continue the tradition begun in 1998:  Lois Adams, Sally Altman, Noreen Briggs, Patti Kingston, Kim Lillard, Carol Mahany, Viktoria Peterson, and Louise Santana.
More information will be available in upcoming Branch Lines issues this year regarding the Tech Trek camp the girls will attend at UC Davis, and how you can join them on Visitation Day on Thursday, July 25th.  Mark your calendars; you don't want to miss it!
For more information regarding Tech Trek, please contact Kim Lillard at 916-899-1899 or lincolnites3@yahoo.com.
---
Tech Trek Receives a Foundation Grant
Special thanks to the Bardis Foundation, created by Christo Bardis of Reynen and Bardis, homebuilders in the greater Sacramento area for over 40 years. Katherine Bardis, administrator of the foundation and the daughter of Christo Bardis, presented to the Branch's Tech Trek program a Foundation Grant for $900. Katherine joined the building industry in 2012 by creating Bardis Homes with her cousin Rachel Bardis. At the same time, she completed her Juris Doctor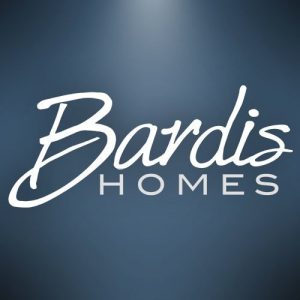 degree at McGeorge School of Law. Katherine and Rachel are role models for young girls in the STEM fields. They have applied their education and knowledge of STEM concepts to design homes and communities for families in the Sacramento area. The Branch is grateful to the Bardis Foundation for the support of young girls in the Tech Trek Program. You can read more about them here.
---
Tech Trek Girls 2016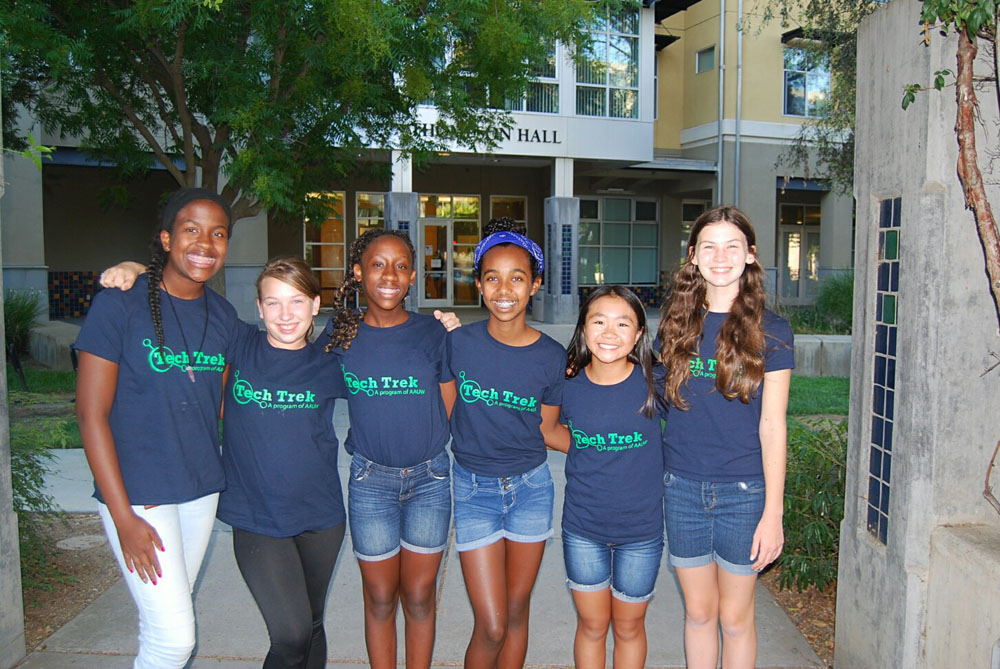 AAUW Roseville – South Placer is a 501(c)(3) tax deductible organization.
California's Tech Trek experiences are part of the larger AAUW effort to encourage young women to enter the STEM fields:  science, technology, engineering, and mathematics. In 2013, Tech Trek became a National AAUW program. Before 2011, Tech Trek students from our branch attended a week at Stanford University. With the growth of Tech Trek statewide, a new program opened at U.C. Davis, where our students now attend.
During their week at U.C. Davis, the girls participate in rich scientific programs offered by the university. This summer program provides classes in math and science while afternoon and evening programs allow for field trips, craft projects, and physical education. Each Tech Trek experience also includes instructional presentations by visiting experts and professionals in the STEM fields. Programs have featured genetics, 3-D math, engineering, wildlife and environmental conservation, robotics, acoustics, chemistry, astronomy, and medicine. Some of our former campers have later served as junior camp counselors, and many go on to attain degrees in one of the scientific fields.
Middle schools in the Granite Bay, Roseville, Rocklin, and Lincoln areas participate in the competition for the 5 campers that we send to Tech Trek. No more than one student may be selected from any of the participating middle schools.
AAUW members may support Tech Trek through: serving on the Tech Trek committee, assisting with the spring ice cream social for the girls, and/or contributing financially to the Tech Trek program.

Tech Trek girls create STEM-inspired table centerpieces for branch's June installation luncheon.
BRANCH MEMBERS TREK TO CAMP VISITATION DAY
On Thursday, July 14th, several AAUW RSP members made the trip over to UC Davis to visit the young women whom our branch sent to this year's Tech Trek Camp. The visitors from our branch, including Kathleen Crawford, Sue Orvis, Viktoria Peterson, Noreen Briggs, and Kim Lillard, were greeted by Camp Directors Martha Rees and Susan Wheeler. Martha and Susan are energetic, fun, enthusiastic leaders of the UC Davis camp, and the love of what they do shines through for everyone to see.
Camp dorm moms were assigned to take groups of visitors to each of the morning classes at Thompson Hall, in which all of the Trekkers participated. Visitors made the rounds of Anatomy, Genetics, App Inventions, 3-D Math, and Environmental Engineering, among others, to see what the girls were learning from their choice of classes. Bones and animal parts were prevalent in Anatomy; girls proudly wore a necklace of DNA that they had extracted from a strawberry in Genetics; visitors played with the computer games created by girls in App Inventions; 3-D Math girls created roller coaster and bridge prototypes; and Environmental Engineers presented their case for or against windmills in their town in front of a mock city council made up of Thursday's branch visitors, including our ladies Kathleen, Sue, Viktoria and Noreen.
Visitation Day concluded the morning with a tour of the girls' dorm rooms, and a question-and-answer session held by the camp directors in the shady courtyard in front of Thompson Hall. Although visitors were welcome to join the Teck Trek girls at lunch in Segundo Hall and the afternoon classes across the campus at the Robert Mondavi Performing Arts Center, our group (like most visitors) chose to reconvene at a nearby restaurant to talk about the wonderful things we had seen during our tour.
Visitation Day is a highly anticipated and much-loved event each year at Tech Trek Camp. I encourage you to make the trip next year to see our girls involved in these fun and educational classes, group sessions, and life lessons. You will come away with great memories and a deeper understanding of and appreciation for the power of STEM concepts to change girls lives. For more information about Tech Trek, please contact Kim Lillard at lincolnites3@yahoo.com or 916-899-1899.