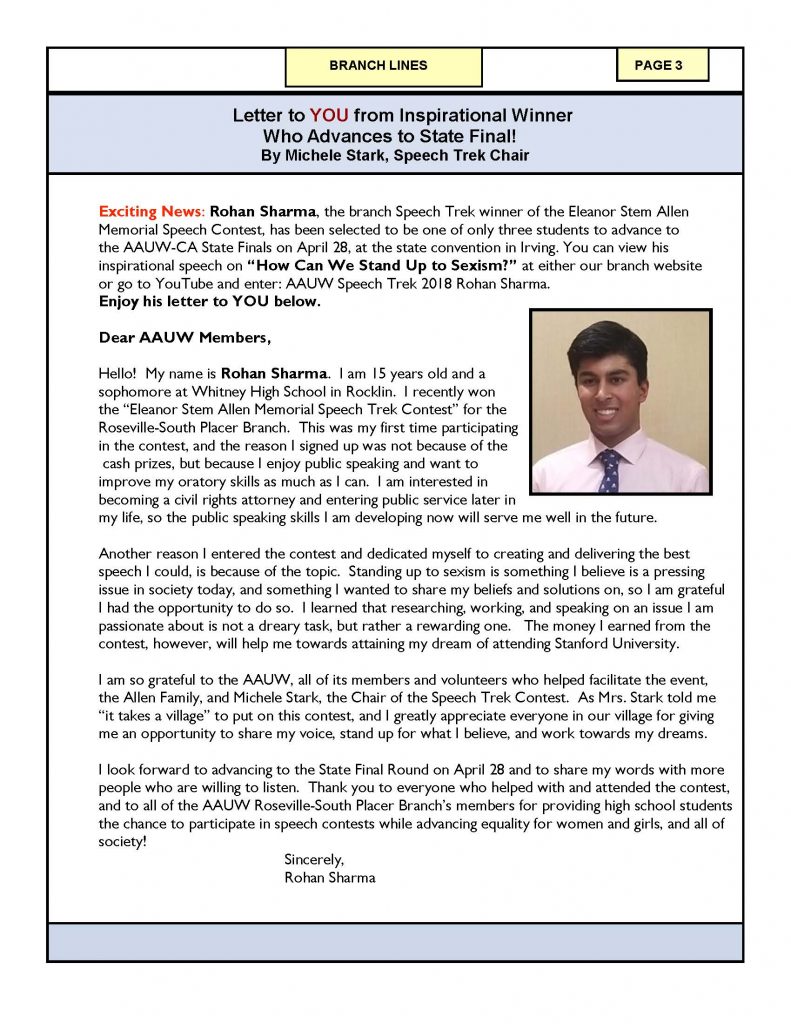 ---
In Honor of Eleanor Stem-Allen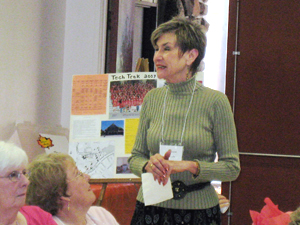 Speech Trek is an AAUW-CA yearly speaking contest open to all high-school girls and boys on a subject related to AAUW's themes. Students prepare a five-minute speech with strict timing guidelines and may use only one small note card.  Speech preparation requires students to use research, organizational and oratorical skills. The contest begins at the branch level. Three state competitors, selected from video tapes of their winning branch speeches, progress to a competition at the AAUW State Convention in the spring.
The Eleanor Stem-Allen Speech Trek Scholarship was endowed by Gray Allen in honor of his late wife, Eleanor Allen, who was a dedicated AAUW member.  She initiated the branch Speech Trek program and served as the branch Speech Trek Coordinator for the first two years.  The Scholarship funds the prize monies for our branch winners and for the winners at the annual state AAUW convention.  Local branch prizes are $750 for 1st, $500 for 2nd, and $250 for 3rd. The State competition prizes are $1500, $750, and $500, respectively for the top three awards. The Scholarship also funds all of the branch expenses for the program, as well as expenses for the branch winner to attend the state convention.
Highlights from 2017 Contest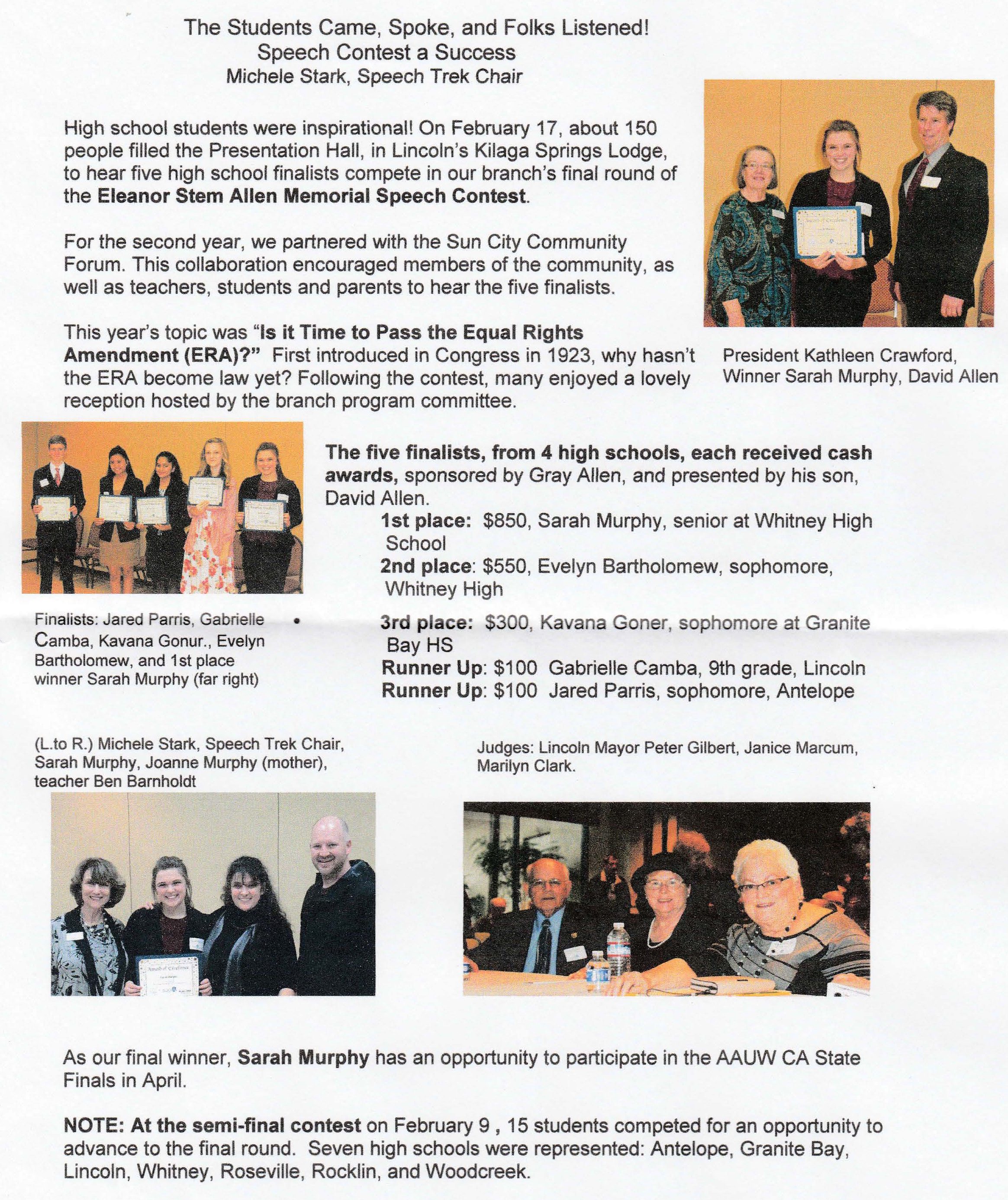 Highlights from the 2016 Contest
Speech Trek 2016 Finalists Impress the Audience
By Michele Stark, Chair
Polished speakers and a classy venue! On February 5, five students, representing five different high schools, advanced to the branch's final round of the tenth annual Eleanor Stem-Allen Speech Trek contest. This year's venue was the ballroom at Lincoln's Orchard Creek Lodge. Partnering with the Sun City Community Forum, Speech Trek's largest audience of 110 people listened to the finalists address the topic "Gender Bias and Inequality." They skillfully addressed its impact on people and how organizations such as AAUW can address the problem.
The Speech Trek contest is fully funded by Gray Allen and his family as a tribute to his late wife Eleanor Allen, who was a long-time branch member and who initiated the Speech Trek program in our branch. David Allen gave a very inspirational tribute to his mother Eleanor.
First Place, $750: Caitlyn Jordan, a senior at Roseville's Oakmont High School, plans to attend UC Berkeley, major in English and have a career in journalism. Caitlyn is president of the school Speech Club. president (and founder) of the Creative Arts Club, and she also serves on the Placer County Youth Commission. Caitlyn now has a chance to be a competitor at the AAUW Speech Trek State Final, held at Convention in San Mateo, Saturday, April 16.
Second Place, $500: Sarah Murphy is a junior at Whitney High in Rocklin.
Third Place, $250: Skyler Vega is a junior at Rocklin High School.
Runners-Up, $50 each: Thomas Ebrahimi, is a senior at Roseville's Woodcreek High; Ashley Isaac, is a junior at Del Oro High in Loomis.
A big thank you to all the many volunteers who gave their time and expertise at both the semi-final and the final round. Much gratitude to the Speech Trek committee for elevating the contest to a new level. A special thank you to the Sun City Community Forum Task Force, especially, Peter Beckett, Paul Gardner, and Judie Panneton. Thanks also to these judges for the final round: Placer County Supervisor Robert Weygandt, Gail Berberian, Paul Gardner, Janice Marcum, and Doug Stark.
Highlights from the 2015 Contest
The Eleanor Stem Allen 9th Annual Speech Trek Contest held on Saturday, February 7, at 10:00 a.m. in the Whitney High School Library was a great success.
The audience, numbering between 53-55, enjoyed listening to speeches from eleven students representing six high schools in the Roseville-South Placer area. The topic, whether or not college was worth the time and the expense, brought to light some interesting arguments, both supporting a college education and questioning its value in today's society. The program opened with branch president Shelley Jensen explaining the mission and work of AAUW, followed by David Allen speaking about his mother Eleanor's dedication to education, to excellence, and to the creation and growth of the contest which memorializes her.
After the speeches were delivered, the three judges—Janice Marcum, Dennis Miller, and Michelle Stark—handed their ballots to the scorers who then spent the brief intermission in the program to tally the scores. During the break, attendees enjoyed light refreshments and shared reactions to the speeches. Then Speech Trek Committee chair, Gail Berberian, presented each participant with a certificate of participation, thanking each for his/her time and effort.
Finally, David Allen presented the top three winners with their prize money:
The first place winner's speech will be submitted in the form of a DVD to the state finals. The top three speakers in the state will then give their speeches at the state meeting in April in Huntington Beach to determine who will capture 1st place ($1500), 2nd place ($1000), and 3rd place ($500) statewide.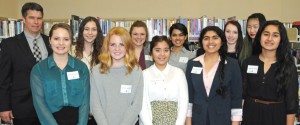 Carole Biemer and Virginia Legarre organized a lunch at BJ's in Roseville after the contest for interested members of AAUW who attended the event.
A special thank you goes to all of the volunteers who so generously gave their time and expertise to this event, without whom the contest could not have been held. Peter Beckett, Mike Epling, and Julie Epling were the videography team; Larry Bordeaux was the photogra-pher; and Jennifer Hanks, Assistant Principal of Whitney High School, was instrumental in getting the venue. The Speech Trek Committee also deserves appreciation for putting on a successful event: Barbara Fraivillig, Cindy Hays, Susan Hall, Kim Lillard, Dona Louzader, Janice Marcum, Leslie McNeill, and Laurie Schuler.
Highlights from the 2014 Contest
"Women at the top?….Why not?"    Twelve South Placer high school participants explored this provocative topic at the seventh annual AAUW Eleanor Stem Allen Branch Speech Trek Competition. Named for long time-branch member Eleanor Allen, Speech Trek is fully funded at the local and state level by the Allen family in her memory.
First Place:  Sai Sumana Kaluvai, a junior from Granite Bay High School, engaged the audience with vivid examples to show the social barricades and cultural stereotypes that hold women back. She suggested ways girls can overcome these barriers through educational programs such as Tech Trek, which encouraged her to become an engineer.
Second Place: Caitlyn Jordan, a sophomore from Oakmont High, cited excellent examples of the scarcity of "women at the top," a root cause being society's "often damaging perceptions of women." Caitlyn offered ways to "change how young girls think."
Third Place:  Nicolette Tucker, a sophomore from Whitney High, approached the topic citing five "pillars for women's achievement" and gave many examples of women who have reached the top and who can be role models for young women.
Thanks to Gail Berberian, Speech Trek Chair, and her committee, this year's event was held for the first time on a Saturday morning and drew the largest number yet of participants, parents and Branch members.  Rocklin's Whitney High School library provided an especially good setting for the competition. In addition to the schools of the three winners, students also came from Roseville, Woodcreek, and Rocklin high schools.
This rigorous speech competition requires research and in-depth analysis (50%) as well as  adherence to strict time limits (5-6 minutes) and public speaking demeanor.
Judges Michele Stark, Janice Marcum, and Dennis Miller found the students' performances to be exceptionally polished.
Present to speak about his mother, Eleanor, was David Allen, who described Eleanor's dedication to education and achievement. David also distributed the monetary awards to the top three winners.  Sai Kaluvai will now go on to compete for one of the top three spots at the AAUW State convention in April.
Photos taken by Larry Bordeaux
Highlights from the 2013 Contest
The 6th annual Eleanor Stem Allen Speech Trek Contest enjoyed another successful evening. The new venue for this event, the Fellowship Hall at the Lutheran Church of the Resurrection in Granite Bay, comfortably accommodated the 10 students representing Woodcreek, Granite Bay, Rocklin, and Roseville High Schools and the nearly 40 attendees. The program opened with a welcome from branch president Jackie Lamb. Then David Allen, Eleanor Allen's son, spoke briefly about Eleanor's life and her contribution to Speech Trek. All of the students addressed the topic of sexual harassment in schools with interesting facts and poignant examples. After a tally of the judges' scores, committee chair Gail Berberian revealed the top three winners and David Allen presented each with a check:
1st place ($750) Kelly Nabaglo, a senior at Woodcreek High School
2nd place ($500) Rani Ghosh, a senior at Granite Bay High School
3rd place ($250) Andrew Solano, a junior at Woodcreek High School
A video of Kelly's speech will be entered into the state championship. If her speech is chosen as one of the three state finalists, she will give the speech at the state convention to be held in Sacramento on April 20, 2013. We will keep you posted!
Photos taken by Larry Bordeaux
Highlights from the 2012 Contest
The 2012 theme was "Bullying… So What?"
Twelve area high school students participated in the Contest, held February 6th at the Granite Bay Library. The theme created thought-provoking speeches and truly lively conversation among those in attendance.  Students competed from Oakmont, Granite Bay, Whitney, Rocklin and Woodcreek High Schools. Three volunteer judges with expertise in evaluating public speaking and debate provided excellent evaluations for all participants.
$500 1st place Allyson McReynolds, 12th grade at Granite Bay High School
$350 2nd place Camille Deloney, 12th grade at Woodcreek High School
$250 3rd place Amanda Wong, 11th grade at Rocklin High School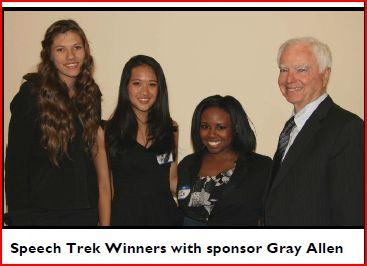 Highlights from the 2011 Contest
The theme was this year's AAUW Focus: "Breaking Through Barriers-Internationally":  Seventy percent of the 1.2 billion people in the world living in poverty are women. What is the most significant barrier to be overcome to lift these women out of poverty, internationally? What organization, foundation or program is having the greatest impact on this barrier?
With 13 high school student participants, the Contest, held February 7th at the Cornerstone Community Methodist Church in Rocklin, was better than ever. The thirteen participants were students from Roseville, Whitney, Rocklin, and Woodcreek High Schools.  Four very qualified judges-two from Toastmasters and two veteran speech and debate coaches from a local high school district-evaluated each speaker.
$500 1st place Jesse Nelson, 11th grade at Woodcreek  High School
$350 2nd place Tayryn Edwards, 11th grade at Woodcreek High School
$250 3rd place Jesar Shah, 12th grade at Roseville High School.
Highlights from the 2010 Contest
The contest theme was Breaking Through Barriers:  "If you could organize 100,000 women, millions of dollars in resources and thousands of volunteer hours to bring equality to women in one area, what would that area be? and Why?
$500 first place winner-Ela Banerjee, Roseville High School Junior
$350 second place-Alexus Howze, Woodcreek High School Senior
$250 third place-Alex Ayers, Woodcreek High School Senior
Also competing were Alexa Crawford, a Granite Bay High School senior; Paige Smith, a Whitney High School sophomore; and Chad Tucker, a Whitney High School senior.
Ela Banerjee was selected to be a state finalist to compete at the AAUW State Convention.  There she won third place and $500.
Highlights from the 2009 Contest
This year's theme focused on Gender Equity in Education: "What are the facts about gender equity…are girls succeeding at the expense of boys?"
$500 1st place Christian Hatchett, Woodcreek High School sophomore.  Yes! A young man captured first place, a "first" for Speech Trek!
$350 2nd  place Tayryn Edwards, Woodcreek High School freshman
$250 3rd place Mary-Kate Cavaghan, Roseville High School junior.
Also competing were Diana Gonzalez, a junior at Woodcreek High School, 2009 Speech Trek Winners and Rose Christensen, a freshman at Roseville High School.
Hatchett concluded, "Gender does not influence success any more than skin color, or religion, or political views do. We all influence our own success. Underachievement is not a gender problem; it is a problem of motivation."
Judging this year's contest on February 2 at the Granite Bay Library were Susan Goto, Roseville City School Board trustee; Joyce Wade, retired college professor; Pauline Roccucci, Roseville City Council; and Anna Torres, State Winner of Speech Trek in 2007.
Highlights from the 2008 Contest
The theme for 2008 was Behind the Pay Gap.
Cisalee Burgess, our local and district Speech Trek winner, came in second in the 2008 state competition. Our delegates to AAUW's State Convention in April heard her deliver the winning speech again, and they said she did an excellent job!
Highlights from the 2007 Contest
The theme for 2007 was Education as the Gateway to Women's Economic Security.
In this first year of the Scholarship program, Anna Torres was the first place winner at both the branch and the state level.
Contact Michele Stark, Branch Speech Trek Director