Saturday, March 9, An All-Day Event at Sierra College
~Open to women and men~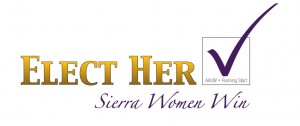 This student leadership conference encourages and trains college women to run for student government on their campus and then beyond college.
Organizers for the event include our AAUW branch in collaboration with AAUW National, Sierra College, and Running Start, a non-profit organization that educates young women abut the importance of politics and gives them the skills to be leaders so that they get the "running start" they need to achieve greater political power.
"Elect Her–Campus Women Win!," begun in 2009, is reaching 39 college/universities in 2013. This year, AAUW National awarded 12 national campuses this FREE event. Sierra College was recognized as a recipient, the only U. S. community college to receive this distinction.